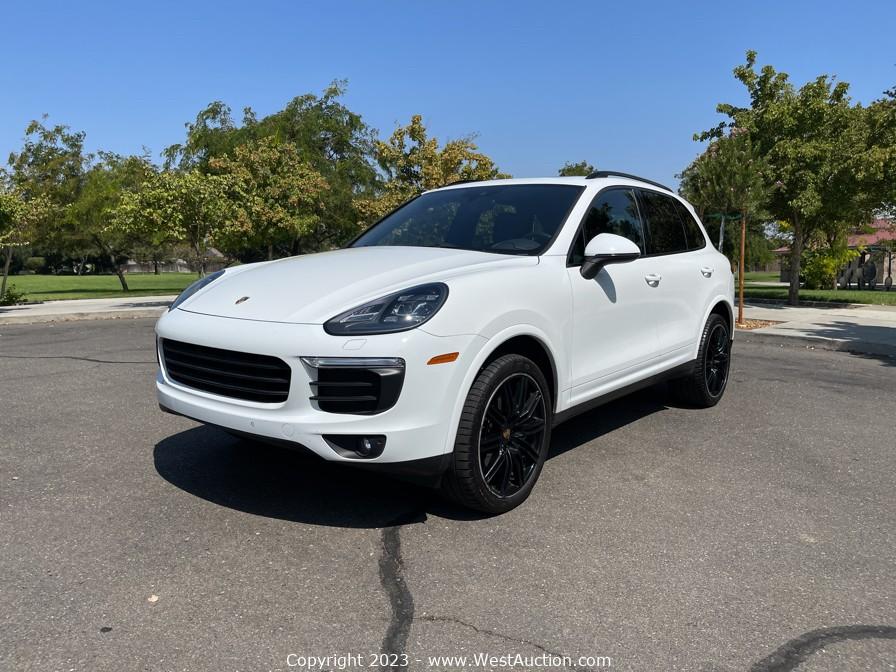 Bankruptcy Auction of 2017 Porsche Cayenne
Current Bid
$17,200.00
NA
Time Remaining:
3 days, 8 hours, 45 minutes
Soft closes in effect:
i
Bidding Ends:
Thu, Oct 5 10:00:00 am PT
High Bidder:
valzay
Bid Increment:
$100.00
Starting Bid:
$5.00
Item Location:

Woodland

,

CA

95776

Item has been viewed 6,673 times.

ASK ABOUT THIS ITEM

Bankruptcy Auction of 2017 Porsche Cayenne -No Buyers Premium 
Specifications
Year: 2017
Make: Porsche
Model: Cayenne
VIN: WP1AA2A27HKA80702
License: 7WVC341

Registration Expiration: 2/8/2024

Odometer Reads: 71,690
Key: Available
GVWR: 6,195 lbs
Drive Type: AWD/4WD
Engine: V6
Body Style: SUV
Fuel Type: Gasoline
Transmission: 6-Speed Automatic
Tire Size: 295/35 R 21
Exterior
Exterior Color: White
Doors: Four Door
Interior
Interior Material: Leather
Interior Color: Black
Features:

Backup Camera
Bluetooth Hands-Free
Cruise Control
Heated Seats
Keyless Entry
Leather Seats
Multi-Zone Climate Control
Navigation
Power Locks
Power Windows
Power Mirrors
Premium Audio
Premium Wheels
Security System
Steering Wheel Controls
Sunroof
Air Conditioning
Touch Screen
Note: Certificate of Title, Transfer Form and Court Order will be mailed after October 16th. The Bidder shall not bid on behalf of another individual; the Bidder/Purchaser/DMV Registrant must be the same. The Buyer is fully responsible for all aspects of smog, registration, transfer, taxes, and fees due to the DMV. This vehicle is being sold on behalf of the US Bankruptcy Court.
| | | |
| --- | --- | --- |
| Bid Date | Bid Amount | Bidder |
| Oct 1, 2023 - 12:16:06 PM | $17,200.00 | ivalzay |
| Sep 30, 2023 - 8:05:14 AM | $17,100.00 | imrussell4712 |
| Sep 30, 2023 - 8:05:14 AM | $17,000.00 | ivalzay |
| Sep 29, 2023 - 6:02:25 PM | $15,500.00 | ivalzay |
| Sep 29, 2023 - 6:02:25 PM | $15,400.00 | iJLee4444 |
| Sep 29, 2023 - 5:09:35 PM | $15,300.00 | ivalzay |
| Sep 29, 2023 - 4:10:16 PM | $15,200.00 | iFARLO |
| Sep 29, 2023 - 3:23:38 PM | $15,100.00 | imrussell4712 |
| Sep 29, 2023 - 1:42:24 PM | $15,000.00 | ivalzay |
| Sep 29, 2023 - 1:42:24 PM | $14,999.99 | idavid95350 |
| Sep 29, 2023 - 1:33:45 PM | $14,100.00 | idavid95350 |
| Sep 29, 2023 - 1:33:45 PM | $14,000.00 | ivalzay |
| Sep 29, 2023 - 1:33:24 PM | $12,400.99 | ivalzay |
| Sep 29, 2023 - 1:33:24 PM | $12,300.99 | idavid95350 |
| Sep 29, 2023 - 1:27:49 PM | $12,200.99 | ivalzay |
| Sep 29, 2023 - 1:19:07 PM | $12,100.99 | iloper |
| Sep 29, 2023 - 1:19:03 PM | $12,000.99 | idavid95350 |
| Sep 29, 2023 - 1:19:03 PM | $12,000.00 | iloper |
| Sep 29, 2023 - 1:19:00 PM | $11,900.00 | idavid95350 |
| Sep 29, 2023 - 1:19:00 PM | $11,800.00 | iloper |
| Sep 29, 2023 - 1:18:56 PM | $11,700.00 | idavid95350 |
| Sep 29, 2023 - 1:18:56 PM | $11,600.00 | iloper |
| Sep 29, 2023 - 1:18:52 PM | $11,500.00 | idavid95350 |
| Sep 29, 2023 - 1:18:52 PM | $11,400.00 | iloper |
| Sep 29, 2023 - 1:18:48 PM | $11,300.00 | idavid95350 |
| Sep 29, 2023 - 1:18:48 PM | $11,200.00 | iloper |
| Sep 29, 2023 - 1:18:42 PM | $11,100.00 | idavid95350 |
| Sep 29, 2023 - 1:18:42 PM | $11,000.00 | iloper |
| Sep 29, 2023 - 1:18:38 PM | $10,900.00 | idavid95350 |
| Sep 29, 2023 - 1:18:38 PM | $10,800.00 | iloper |
| Sep 29, 2023 - 1:18:34 PM | $10,700.00 | idavid95350 |
| Sep 29, 2023 - 1:18:34 PM | $10,600.00 | iloper |
| Sep 29, 2023 - 1:18:28 PM | $10,500.00 | idavid95350 |
| Sep 29, 2023 - 1:18:28 PM | $10,400.00 | iloper |
| Sep 29, 2023 - 1:18:23 PM | $10,300.00 | idavid95350 |
| Sep 29, 2023 - 1:18:23 PM | $10,200.00 | iloper |
| Sep 29, 2023 - 1:18:18 PM | $10,100.00 | idavid95350 |
| Sep 29, 2023 - 1:18:18 PM | $10,000.00 | iloper |
| Sep 29, 2023 - 1:18:14 PM | $9,900.00 | idavid95350 |
| Sep 29, 2023 - 1:18:14 PM | $9,800.00 | iloper |
| Sep 29, 2023 - 1:18:07 PM | $9,700.00 | idavid95350 |
| Sep 29, 2023 - 1:18:07 PM | $9,600.00 | iloper |
| Sep 29, 2023 - 1:17:58 PM | $9,500.00 | idavid95350 |
| Sep 29, 2023 - 1:17:58 PM | $9,400.00 | iloper |
| Sep 29, 2023 - 1:17:30 PM | $9,300.00 | idavid95350 |
| Sep 29, 2023 - 1:17:30 PM | $9,200.00 | iloper |
| Sep 29, 2023 - 1:14:30 PM | $9,100.00 | idavid95350 |
| Sep 29, 2023 - 1:14:30 PM | $9,000.00 | idlsslpr2 |
| Sep 29, 2023 - 11:37:01 AM | $8,300.00 | idlsslpr2 |
| Sep 29, 2023 - 11:37:01 AM | $8,200.00 | imrussell4712 |
| Sep 29, 2023 - 11:29:42 AM | $7,700.00 | imrussell4712 |
| Sep 29, 2023 - 11:29:42 AM | $7,600.00 | idavid95350 |
| Sep 29, 2023 - 11:21:52 AM | $5,900.00 | idavid95350 |
| Sep 29, 2023 - 11:21:52 AM | $5,800.00 | imrussell4712 |
| Sep 29, 2023 - 10:57:09 AM | $5,104.00 | idavid95350 |
| Sep 29, 2023 - 10:57:09 AM | $5,004.00 | iJimncyn66 |
| Sep 29, 2023 - 10:38:38 AM | $3,050.00 | idavid95350 |
| Sep 29, 2023 - 10:38:38 AM | $3,000.00 | igreenofrls |
| Sep 29, 2023 - 10:30:37 AM | $2,550.00 | igreenofrls |
| Sep 29, 2023 - 10:30:37 AM | $2,500.00 | iSouthpaw77 |
| Sep 29, 2023 - 10:24:52 AM | $2,470.00 | iSouthpaw77 |
| Sep 29, 2023 - 10:24:52 AM | $2,420.00 | iTwa420 |
| Sep 29, 2023 - 10:24:40 AM | $2,050.00 | iTwa420 |
| Sep 29, 2023 - 10:24:40 AM | $2,000.00 | iSouthpaw77 |
| Sep 29, 2023 - 10:24:31 AM | $1,700.00 | iTwa420 |
| Sep 29, 2023 - 10:24:31 AM | $1,650.00 | iSouthpaw77 |
| Sep 29, 2023 - 10:23:04 AM | $1,550.00 | iTwa420 |
| Sep 29, 2023 - 10:23:04 AM | $1,500.00 | iSouthpaw77 |
| Sep 29, 2023 - 10:14:35 AM | $1,010.00 | iSouthpaw77 |
| Sep 29, 2023 - 10:14:22 AM | $1,000.00 | idboudreault1965 |
| Sep 29, 2023 - 10:14:23 AM | $1,000.00 | iSouthpaw77 |
| Sep 29, 2023 - 10:14:05 AM | $760.00 | idboudreault1965 |
| Sep 29, 2023 - 10:14:05 AM | $750.00 | iSouthpaw77 |
| Sep 29, 2023 - 10:13:43 AM | $685.00 | idboudreault1965 |
| Sep 29, 2023 - 10:13:43 AM | $675.00 | iSouthpaw77 |
| Sep 29, 2023 - 10:12:21 AM | $665.00 | idboudreault1965 |
| Sep 29, 2023 - 10:12:21 AM | $655.00 | idevildog145 |
| Sep 29, 2023 - 10:04:17 AM | $610.00 | idevildog145 |
| Sep 29, 2023 - 10:04:17 AM | $600.00 | ilaserman1 |
| Sep 29, 2023 - 10:02:32 AM | $510.00 | ilaserman1 |
| Sep 29, 2023 - 10:02:32 AM | $500.00 | idevildog145 |
| Sep 29, 2023 - 10:02:08 AM | $210.00 | idevildog145 |
| Sep 29, 2023 - 10:02:08 AM | $200.00 | ilaserman1 |
| Sep 29, 2023 - 10:01:59 AM | $55.00 | idevildog145 |
| Sep 29, 2023 - 10:01:59 AM | $50.00 | ilaserman1 |
| Sep 29, 2023 - 10:01:49 AM | $15.00 | idevildog145 |
| Sep 29, 2023 - 10:01:49 AM | $10.00 | igeovannysanchez413 |
| Sep 29, 2023 - 10:00:15 AM | $5.00 | idevildog145 |