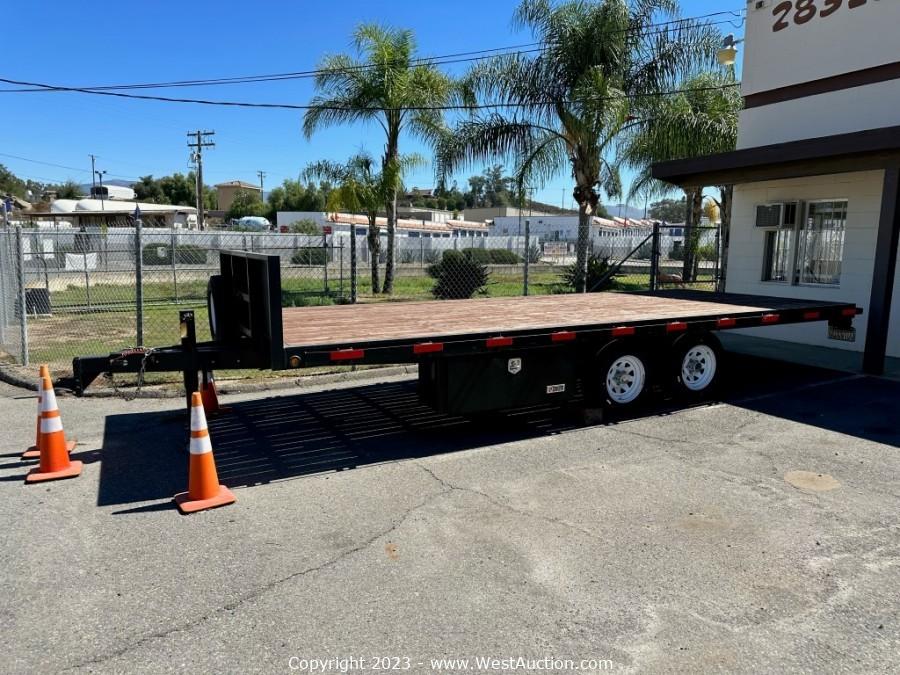 2021 20' Flatbed Trailer in San Diego County
Bidding is

closed

.
High Bid:
$6,200.00
NA
Bidding Ended:
Thu, Oct 26 10:30:00 am PT
High Bidder:
besco1
Bid Increment:
$100.00
Starting Bid:
$5.00
Item has been viewed 2,573 times.

ASK ABOUT THIS ITEM

2021 20' Flatbed Trailer in San Diego County
Trailer Details
VIN: CA1187517
License: 4UT9914

Registration Expiration Date: 6/30/2027

Year Per Title: 0000 
New Title for Custom trailer issued in 2022
Trailer Type: Flatbed
Make per DMV: SPCNS (Special Construction)
GVWR: 10,000 lbs
Dimensions
Overall Length: 300"
Overall Width: 102"
Overall Height: 63"
Deck Length: 240"
Deck Width: 98"
Side Height: 39"
Axles, Brakes, and Tires
Suspension: Leaf Spring
Number of Axles: 2
Brake Type: Electric
Number of Wheels: 4
Tire Size: Lt225-75R16
Electric Plug Type: 7-Way Round
Hitch: 2 5/16" Ball
Note: Photos are from 2022
Note: Certificate of Title, Transfer Form will be mailed 1-2 weeks following pickup. The Bidder shall not bid on behalf of another individual, the Bidder/Purchaser/DMV Registrant must be the same. The Buyer is fully responsible for all aspects of registration, transfer, and fees due to DMV. 
| | | |
| --- | --- | --- |
| Bid Date | Bid Amount | Bidder |
| Oct 25, 2023 - 8:30:31 AM | $6,200.00 | ibesco1 |
| Oct 25, 2023 - 7:18:53 AM | $6,100.00 | icmoore |
| Oct 25, 2023 - 7:18:14 AM | $6,000.00 | ibesco1 |
| Oct 25, 2023 - 7:18:14 AM | $5,900.00 | icmoore |
| Oct 23, 2023 - 9:49:24 AM | $5,600.00 | ibesco1 |
| Oct 23, 2023 - 9:49:24 AM | $5,500.00 | icmoore |
| Oct 22, 2023 - 9:22:04 AM | $5,150.00 | ibesco1 |
| Oct 22, 2023 - 9:11:51 AM | $5,050.00 | icmoore |
| Oct 22, 2023 - 9:11:51 AM | $5,000.00 | ibesco1 |
| Oct 22, 2023 - 9:10:46 AM | $4,900.00 | ibesco1 |
| Oct 22, 2023 - 9:10:46 AM | $4,850.00 | icmoore |
| Oct 22, 2023 - 9:10:10 AM | $4,600.00 | ibesco1 |
| Oct 22, 2023 - 9:10:10 AM | $4,550.00 | icmoore |
| Oct 21, 2023 - 8:35:42 AM | $4,200.00 | ibesco1 |
| Oct 21, 2023 - 8:35:42 AM | $4,150.00 | icmoore |
| Oct 21, 2023 - 8:34:35 AM | $4,050.00 | icmoore |
| Oct 21, 2023 - 8:34:35 AM | $4,000.00 | ibesco1 |
| Oct 21, 2023 - 8:34:16 AM | $3,550.00 | icmoore |
| Oct 21, 2023 - 8:34:16 AM | $3,500.00 | ibesco1 |
| Oct 21, 2023 - 8:33:49 AM | $3,050.00 | icmoore |
| Oct 21, 2023 - 8:33:49 AM | $3,000.00 | ibesco1 |
| Oct 21, 2023 - 8:33:27 AM | $2,050.00 | icmoore |
| Oct 21, 2023 - 8:33:27 AM | $2,000.00 | ibesco1 |
| Oct 21, 2023 - 8:32:01 AM | $1,250.00 | icmoore |
| Oct 21, 2023 - 8:32:01 AM | $1,200.00 | ibesco1 |
| Oct 20, 2023 - 4:07:08 PM | $495.00 | icmoore |
| Oct 20, 2023 - 4:07:08 PM | $485.00 | idevildog145 |
| Oct 20, 2023 - 4:06:11 PM | $275.00 | icmoore |
| Oct 20, 2023 - 4:06:11 PM | $265.00 | idevildog145 |
| Oct 20, 2023 - 2:51:34 PM | $105.00 | icmoore |
| Oct 20, 2023 - 2:51:34 PM | $100.00 | ialwestfall |
| Oct 20, 2023 - 11:47:34 AM | $5.00 | ialwestfall |